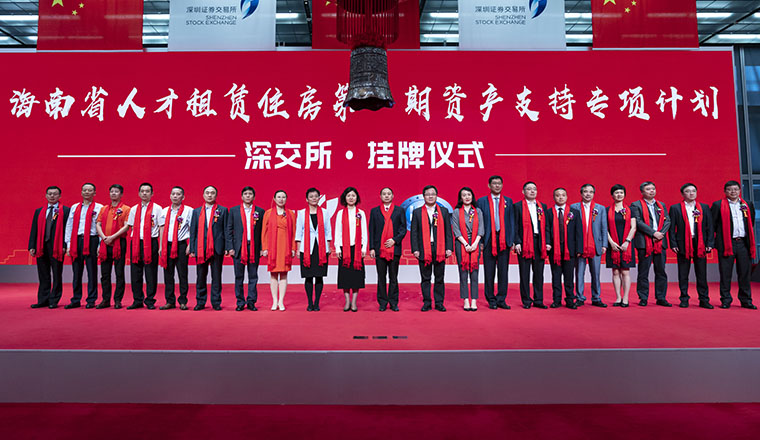 On April 8, 2019, the listing ceremony of the "Hainan Provincial Talent Rental Housing Asset-backed Special Plan (1st Tranche)" (hereinafter referred to as Hainan Talent Rental Housing REITs) was held at SZSE. Hainan Talent Rental Housing REITs is the first provincial-level talent rental REITs product and the first REITs product issued by Hainan Province. The launch of this product is an important practice for SZSE to implement the Guiding Opinions of the CPC Central Committee and the State Council on Supporting Hainan in Comprehensively Deepening Reform and Opening Up and to assist Hainan in implementing the "One Million Talents to Hainan Action Plan". Besides, it is also an achievement in strengthening the capital market's ability to serve the real economy and supporting the construction of the Hainan pilot free trade zone and free trade port with Chinese characteristics.
GSUM Real Estate Fund Management Co., Ltd. and Shenzhen Capital Group Real Estate Fund Management (Shenzhen) Co., Ltd. are the general coordinators and financial consultants for the Hainan Talent Rental Housing REITs project, while ICBC Credit Suisse Investment Management Ltd. is the plan manager. This project is backed by the underlying property which is the Yongxiu Garden (supporting rental housing for talent introduction) in Xiuying District, Haikou City, held by Hainan Development Holdings Co., Ltd. The total issuing scale is CNY870 million, with a duration of 18 years (exit opening every 3 years). The prior class of the securities receives an AAA credit rating. The coupon rate is 4.50%, which is the lowest issuance cost of similar products in the same period. Hainan Talent Rental Housing REITs has carried out useful explorations in the transfer of state-owned assets, the implementation of talent rental housing policies and tax arrangements, accumulating valuable experience for Hainan Province to further use REITs products to support the construction of the free trade zone.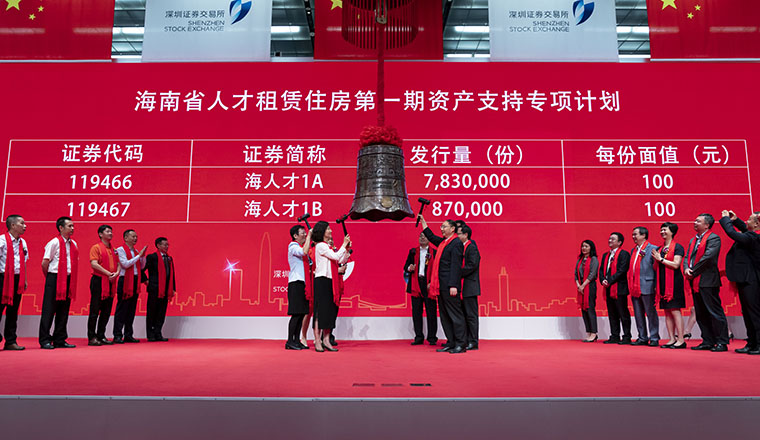 According to an SZSE officer, SZSE has continuously led the innovation and development of asset securitization since its launch of the country's first quasi REITs "CITIC Qihang Special Asset Management Plan" in 2014. It has established a REITs market with SZSE features which is with rich asset types, significant innovation effects and efficient reviewing and listing. Up to now, SZSE has issued a total of 26 quasi REITs products, with a total issuing scale of CNY54.148 billion, accounting for about 60% of the total market. These products cover various types of real estate such as office buildings, shopping centers, retail stores, hotels, long-term rental apartments, public talent apartments, logistics and warehousing, industrial plants and industrial parks, which makes SZSE an important platform for the innovation practice of REITs products in China.
Next, under CSRC's unified leadership, SZSE will actively promote the public offering of REITs, create a REITs board with distinctive features, and improve the level to serve the real economy. We will continue to focus on the following work. First, on the basis of past practice of quasi REITs products and the "Penghua Vanke Qianhai REITs", SZSE will cooperate to promote the research and rulemaking of the public offering of REITs, push the implementation of REITs taxation policies, create a good market environment, so as to lay a solid foundation for the long-term healthy development of REITs. Second, we will serve national strategies, fully support Xiong'an New Area, Guangdong-Hong Kong-Macao Greater Bay Area and Hainan Free Trade Zone to carry out innovation pilots, focus on using idle assets in fields such as housing leasing, infrastructure and commercial properties, in addition to increasing project reserves, enhancing innovation level, and playing the role of the capital market, so as to serve the high-quality development of local economies.