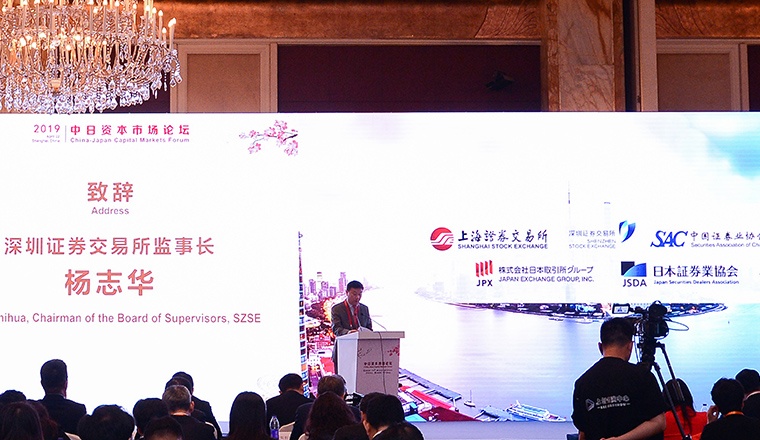 On April 22, 2019, the first China-Japan Capital Market Forum was co-hosted by SZSE in Shanghai. Yi Huiman, CSRC Chairman, delivered a speech for the forum through a videolink. Fang Xinghai, CSRC Vice Chairman, attended the forum and gave a keynote speech. Representatives from the securities and futures supervision bodies of China and Japan, Shanghai Municipal Government, Chinese and Japanese exchanges and industry associations attended the forum and delivered speeches.
The forum aims to promote exchanges and cooperation in the capital markets between China and Japan. The two sides conducted several round-table discussions on issues such as innovation-driven and roles of capital markets, ETF connect, securities industry innovation and opportunities, and fund management market and system comparison.
Over the years, SZSE and the Japan Exchange have established a regular exchange and cooperation mechanism, and actively made exploration in the fields of market construction, front-line supervision and product development. Since the launch of Shenzhen-Hong Kong Stock Connect, SZSE has sent personnel to Japan to conduct targeted roadshows and investor relations services every year. SZSE's listed innovative tech firms have been widely recognized by foreign investors including Japanese investors. The V-Next, SZSE's platform to facilitate investment and financing for entrepreneurship and innovation, covers a number of Japanese tech innovation projects.
Next, SZSE will continue to maintain close communication with all parties in the Japanese capital market and continuously explore the product connection mechanism of the capital markets. We will also jointly promote the cooperation and development of the regional bond markets, continue to promote the formation of cross-border innovation capital, and push forward the implementation of pragmatic cooperation in China-Japan capital markets.