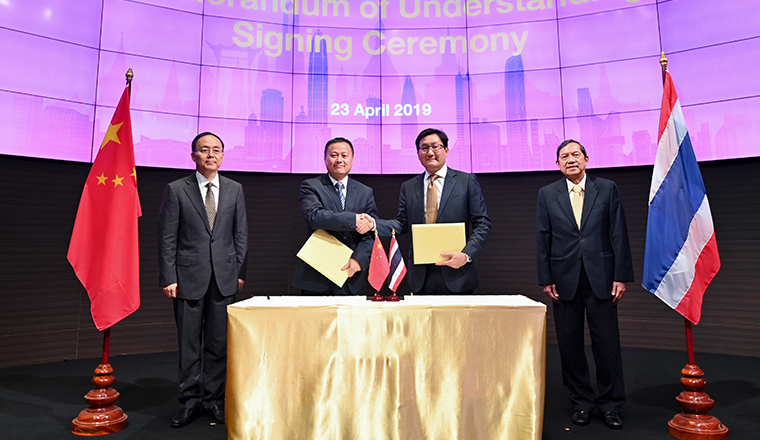 On April 23, 2019, the first China-Thailand Capital Market Cooperation Seminar was successfully held in Bangkok, Thailand. It was jointly organized by SZSE, the Stock Exchange of Thailand (SET), and the Industrial and Commercial Bank of China (Thai) Public Company Limited (hereinafter referred to as ICBC Thailand). SZSE Chairman Wu Lijun, SET Chairman Chaiyawat Wibulswasdi, SET President Pakorn Peetathawatchai, ICBC Thailand Chairman Li Zhigang, and representatives from the Embassy of PRC in Thailand, Thailand SEC and other government agencies attended the event. More than 100 representatives from financial institutions and enterprises with Thai characteristics participated in the seminar.
The participants agreed that the comprehensive strategic partnership between China and Thailand is developing well and the fields of cooperation are being constantly expanded. China's Belt and Road initiative has been working together with strategies such as the "Thailand 4.0" and the construction of EEC (Eastern Economic Corridor), providing a solid foundation and good opportunity for capital market cooperation between the two countries. At the seminar, SZSE and SET signed a MOU. The two sides will cooperate to establish the "China-Thailand SME Capital Market Service Plan" and explore the establishment of the ChiNext-mai Alliance to further enrich the investing and financing channels of the capital markets of the two countries. The two sides will also carry out specific cooperation in indexes and green financial products.
During the seminar, two enterprises with Thai characteristics successfully carried out cross-border roadshow activities through V-Next, SZSE's platform to facilitate investment and financing for entrepreneurship and innovation. The activities were well received and effective in terms of promotion. As SZSE's core cross-border investing and financing service platform, V-Next services have covered 36 countries including ASEAN countries such as Myanmar, Cambodia, Vietnam, the Philippines and Laos. This is the first roadshow carried out via V-Next in Thai market, which aimed to push innovative capital integration between China and Thailand and to promote the sharing of corporate development results between investors from both countries.
SZSE and the Thai capital market have maintained close communication. This cooperation will further leverage the characteristic advantages of both SZSE and SET in cultivating and serving SMEs and their role as capital market organizers. It will promote the participation of all parties in the Sino-Thai markets in the construction of a cooperative network and sharing of resource channels, promote the formation of cross-border innovation capital in the two countries, and facilitate the high-quality development of the innovation economy of both countries.