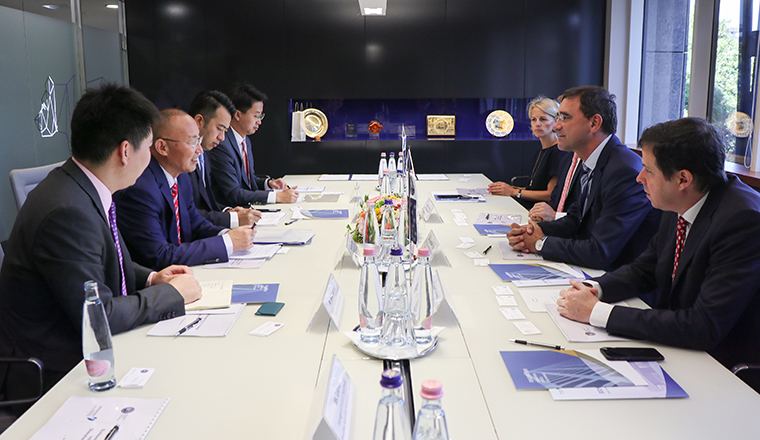 On September 5, SZSE and Budapest Stock Exchange (BSE) signed a Memorandum of Understanding (MOU) on cooperation and conducted a discussion, marking a new stage in their cooperation. This represented another progress for SZSE in advancing the capital market serving the "Belt and Road", and deepening and expanding the pragmatic cooperation of cross-border capital markets.
This year marks the 70th anniversary of the establishment of diplomatic ties between China and Hungary. Both countries give full play to the leading edge of jointly building the "Belt and Road", continuously expand pragmatic exchanges in various fields, and enhance mutually beneficial cooperation among enterprises, presenting new opportunities to bilateral capital market cooperation. SZSE has always regarded serving the national strategy of innovation-driven development as its major mission, promoted the financial service system for technology-based SMEs and formed distinct market characteristics. In recent years, BSE has actively explored and fostered innovative resources and optimized investment and financing services for SMEs. There is broad space for both sides to cooperate on supporting the development of innovative enterprises, connecting investment and financing services, and building technology systems.
According to the MOU, the two sides will further enhance personnel exchanges and experience sharing, promote the market resources connection and information display, and boost innovative cooperation on cross-border index development and other aspects. The two sides will build a China-Hungary investment and financing platform for scientific and technological innovation based on SZSE's investment and financing service platform for innovation and startup (V-Next platform), so as to build an ecosystem for connecting innovative SMEs with capital in both countries and promote broader cooperation between the two innovation economies through the capital link, thus better serving the real economy progress in both countries.
SZSE has long been actively conformed to the trend of China's opening to the outside world, and vigorously promoted multi-level exchanges and cooperation with capital markets of countries along the "Belt and Road". Next, SZSE will earnestly implement Opinions of the Central Committee of CPC and the State Council on Supporting Shenzhen in Building a Demonstration Pilot Zone for Socialism with Chinese Characteristics, continue to follow the general plan of the CSRC to further expand the opening up of the capital markets to the outside world, function as an infrastructure platform, deepen its practical cooperation with overseas stock exchanges in various fields, improve its capacity for cross-border resource allocation and make efforts to foster an ecosystem of cross-border services in the capital markets.