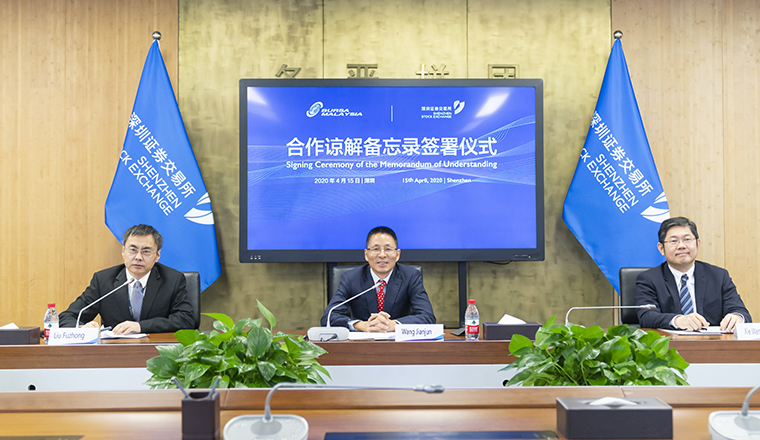 On April 15, Shenzhen Stock Exchange (hereinafter SZSE) and Bursa Malaysia (hereinafter BM) signed a Memorandum of Understanding (hereinafter MoU) through video conference. The two exchanges will further explore areas and channels of cross-border collaboration, give full play to both exchanges' pivotal role in capital market, boost market confidence, serve the real economy, and strengthen pragmatic cooperation under the "Belt and Road" Initiative. By leveraging its market characteristics, technology advantages and geographical location, SZSE answers the country's call for high-level opening-up and makes progress in orderly pushing forward multi-level cooperation and communication of capital markets among "Belt and Road" countries. This cooperation also shows SZSE's stance for opening-up and international cooperation which will add to the global efforts in overcoming the difficult time of preventing and combating the COVID-19. Wang Jianjun, Chairman of SZSE, and Datuk Shireen, Chairman of Bursa Malaysia, attended the ceremony.
Malaysia is one of the first countries to support and participate in the "Belt and Road" Initiative. In recent years, under the "Belt and Road" framework and with the support of the two governments, China and Malaysia have continuously optimized bilateral trade structure, leading to enhanced cooperation in various fields, closer connections of industrial and supply chains, and new opportunities in capital market cooperation. In 2019, Shenzhen Stock Exchange and Bursa Malaysia conducted several bilateral visits and held in-depth discussions in such topics as resources and capital matchmaking for entrepreneurship and innovation, and China-Malaysia capital market cooperation against the backdrop of development of the pilot demonstration area and the Guangdong-Hong Kong-Macao Greater Bay Area.
The signing of the MoU not only ushers in a new page for the future cooperation between the two exchanges, but also serves as a good example of mutual assistance and cooperation between capital markets during the pandemic.According to the MoU, the two sides will share information and resources via the V-Next Platform and promote China-Malaysia industrial chain cooperation, developing a convenient and effective mechanism of cross-border investment and financing matchmaking for enterprises and investment institutions in the two countries. Meanwhile, the two sides will strengthen index cooperation and share market development experience to lay a solid foundation for further cooperation.
Under the leadership of CSRC, SZSE will continue its effort on internationalization, promote opening-up at a higher level, enhance cross-border investment and financing service system, and strengthen pragmatic cooperation with exchanges along the "Belt and Road". SZSE will actively serve the development strategy of the Greater Bay Area, build a capital market ecosystem commensurate with the standard of the pilot demonstration area, and strive to build the world's leading innovative capital formation center.