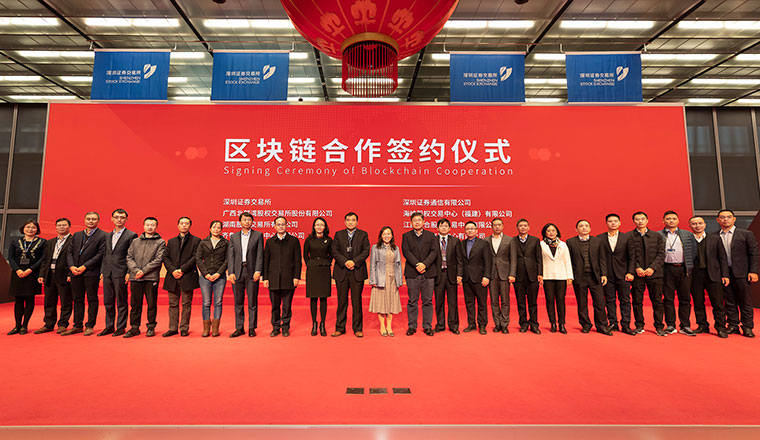 On January 11, Shenzhen Securities Communication Co., Ltd. (SSCC), a subsidiary of SZSE, and six equity exchanges, namely, Guangxi Beibu Gulf Equity Exchange, Haixia Equity Exchange, Hunan Equity Exchange, Jiangxi Equity Exchange, Qilu Equity Exchange and Shanxi Equity Exchange, jointly held the signing ceremony on blockchain cooperation and a seminar centering on "innovative application of FinTech in regional equity markets" at SZSE. The parties discussed in depth on topics like planning for IT application of equity exchanges and application thinking of blockchain technology, and further implemented the pilot project of blockchain development in regional equity markets proposed by China Securities Regulatory Commission (CSRC). Officials of SZSE, SSCC and the six equity exchanges attended relevant activities.
In recent years, SZSE has continuously strengthened research of blockchain technology, explored innovative application scenarios of blockchain in the capital market, and led the preparation of the local standards of Shenzhen Technical Specification of Blockchain Platforms in the Financial Industry. SZSE became the first in the industry to launch a financial blockchain platform, and successfully developed deposit certificate service, the electronic signing platform based on blockchain deposit certificate and other products, having a blockchain product system that features "one chain, one platform and multiple applications" taken shape. In September 2020, SSCC and Beijing Equity Trading Center jointly launched the wholly new blockchain-based equity registration and custody system, established the regional equity market business chain, and successfully connected it to the CSRC's central regulation chain.
The cooperation is another important practice of SZSE after developing cooperation with Guangdong Equity Exchange and Beijing Equity Trading Center in blockchain technology. According to the agreement, SSCC will fully leverage its technological experience and strength in the FinTech field, deepen cooperation with the six equity exchanges in blockchain technology, and integrate SZSE's relevant systems such as the V-Next platform. SSCC will work with the six equity exchanges to build a comprehensive service platform for regional equity market business, facilitate connection between the equity exchanges and the central regulation chain, and support the equity exchanges in achieving digital transformation and business innovation and development.
Next, SZSE will conscientiously implement the CSRC's plans and requirements on Fintech in the capital market, intensify technology R&D, and speed up technological innovation. We will strengthen regular cooperation with regional equity markets, explore more blockchain research and application projects, promote deep integration of technology and business, and work with partners to jointly build a digital innovation ecosystem in the capital market.