On September 29, SZSE officially launched "2021 World Investor Week" series activities. Together with China Securities Regulatory Commission (CSRC) Shenzhen Branch, SZSE invited investors and representatives of member units to SZSE. At SZSE, they visited SZSE Financial Museum and the Red Securities Exhibition, learned the development history of China's capital market and the early exploration of the securities industry under the CPC's leadership, and jointly rang the bell for financial literacy. The event aims to guide member units to earnestly fulfill their primary responsibilities in investor protection and actively create an environment that attaches importance to investor education and advocates the culture of rational investment.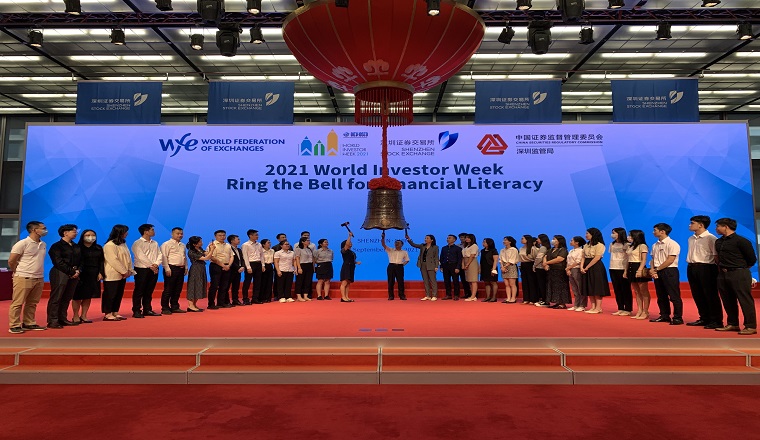 According to the overall plan of CSRC, this year's "World Investor Week" centers on themes including the registration-based IPO system reform, sustainable finance and fraud prevention. Based on hot topics like the first anniversary of the launch of the ChiNext Board registration-based IPO system reform, serving high-quality development, and investor protection, SZSE will mobilize market entities to play their strengths and work together to enhance investors' financial literacy. First, SZSE will hold "Listed Companies' Open House Program for Investors" "Forum on the ChiNext Board Reform" and "Reform, Innovation and High-quality Development" to guide investors to correctly understand the reform and development achievements of the capital market and build a consensus on reform. Second, by making video programs like "Outlook of the 14th Five-year Plan Period" and "ESG View", SZSE will carry out investor education activities on "peaking carbon emissions" and "achieving carbon neutrality", to spread the ideas of green financial development and ESG investment among investors and enhance their awareness of rational investment and value investment. Third, SZSE will give "Cloud Classes on Legal Literacy" in cooperation with organizations like China Securities Investor Services Center, to help investors understand the legal system of the capital market and guide them to exercise their rights and protect their interests.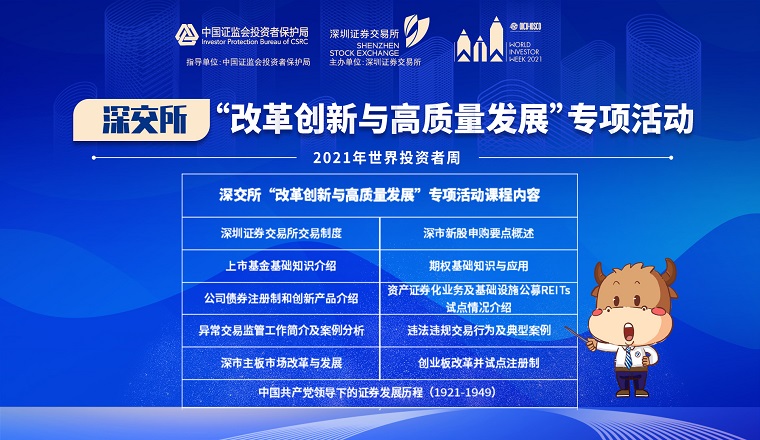 SZSE has always been actively working with the International Organization of Securities Commissions (IOSCO) and the World Federation of Exchanges (WFE) to provide global investor education. SZSE has held "World Investor Week" for four years straight. By participating in the event, SZSE has continuously deepened international cooperation in investor education and protection, actively shared working experiences with peers around the world, and further expanded the breadth and depth of investor services.
Next, SZSE will, under the unified leadership of CSRC, continue to ground efforts in the new development stage, apply the new development philosophy completely, accurately and comprehensively, and actively serve the creation of the new development pattern. Adhering to investor demand as our orientation, we will continuously refine the working mechanism for investor education, innovate in the forms of investor education, and give play to the synergy of market participants, to improve investor services and enhance investors' sense of gain. In addition, we will share China's best practices of investor education and protection via international platforms, deepen international communication and cooperation, and further promote our international influence.