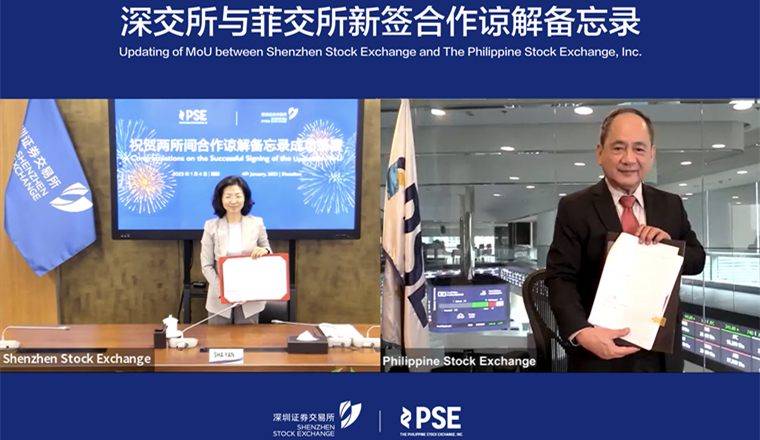 On January 4th, 2022, Shenzhen Stock Exchange (SZSE) and The Philippine Stock Exchange, Inc. (PSE) signed the updated Memorandum of Understanding on Cooperation (MoU) in an online way. Ms. Sha Yan, President and CEO of SZSE, and Mr. Ramon S. Monzon, President and CEO of PSE, signed the MoU on behalf of the two exchanges.
SZSE and PSE signed MoU in 2009 and have maintained close cooperative relations in areas of executive visits, personnel exchanges, information sharing, and mutual display of products. Under the new circumstances, the signing of the updated MoU between SZSE and PSE has gained great attention from the Chinese and Philippine governments, and is included in the outcomes of Philippine President Ferdinand Romualdez Marcos Jr.'s state visit to China. To better leverage the function and role of the capital market in serving the real economy of both countries, the two exchanges underscored in the updated MoU their willingness to explore practical cooperation on market cultivation and promotion, cross-border investment and financing services, index compilation and product cooperation, as well as experience sharing in market development and IT capacity building. Through the updated MoU, the two exchanges will leverage complementary advantages, build a consensus on development, jointly set a model of China-Philippines capital market opening-up and cooperation and contribute to a new chapter of mutually beneficial and win-win relations between China and the Philippines.
Next, SZSE will continue to fully study, grasp, and implement the guiding principles of the 20th CPC National Congress and the Central Economic Work Conference. SZSE will, under the guidance of the CSRC, continue to strengthen its wide-ranging cooperation with overseas exchanges and market institutions, actively facilitate the practical cooperation in the capital markets under the Belt and Road Initiative, continuously improve its cross-border product system, broaden cross-border investment and financing channels, steadily promote high-level institutional opening-up of the capital market. SZSE will continue to build a world-class exchange featuring a high-quality innovative capital hub, and contribute its share to the building of Belt and Road Initiative and the new pattern of development.