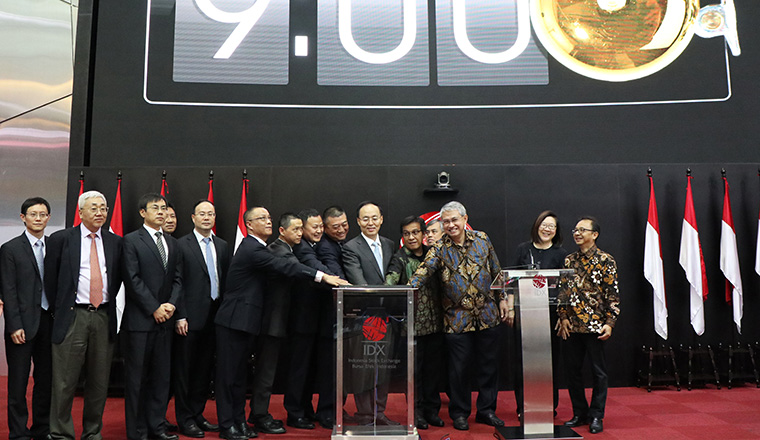 The first China- Indonesia Capital Market Cooperation Seminar was co-hosted in Jakarta, Indonesia on April 26, 2019 by SZSE, Indonesia Stock Exchange ("IDX") and relevant financial institutions. SZSE chairman Wu Lijun, IDX directors Kristian S. Manullang and Fithri Hadi, and about 100 representatives from financial institutions attended the event.
Taking the opportunity to advance the Belt and Road initiative, both parties are expanding cooperation domains. With the springing up of large investment projects, there are new demands on cross-border financial services. SZSE is proactive in pushing forward cooperation between capital markets in China and Indonesia. SZSE maintains a sound relationship with IDX, continues to optimize high-level exchange mechanism, and actively advances personnel exchanges, business researches and technical cooperation between the two sides.
On the seminar, keynote speeches and in-depth discussions were made on services for technical and innovative SMEs and infrastructure financing. Both parties reached consensus on jointly building a China-Indonesia SME capital market service plan to leverage the SZSE V-Next Platform and the IDX Incubator mechanism. A full range of services shall be provided including regular roadshows, information communication, seminars and researches, and incubation and nurturing, to facilitate formation of cross-border capital, technical transfer and cooperation and transformation of technology, to promote new technology, new industrial formats and new modes, to advance growth momentum and the development path, and to serve the construction of the Belt and Road initiative.
SZSE shall carefully study the major spirit of the keynote speech delivered by General Secretary Xi Jinping on the 2th Belt and Road Forum for International Cooperation, serve the national strategies by leveraging the capital market, further push forward the opening up of the capital market as required, adhere to the principle of mutual consultation, construction and sharing, and focus on the important with carefulness and intensive efforts. SZSE shall make use of the advantages of the market and region, continue to step up cooperation with capital markets of countries involved in the Belt and Road initiative, take active part in the ASEAN+3 Bond Market and other regional multilateral cooperation, and serve the need of infrastructure cross-border financing according to the market-based principle. Besides, SZSE shall push forward the development of the Belt and Road bonds, build a long-term stable Belt and Road financial system which is controllable in the aspect of risk, and ensure the sustainable development of infrastructure financing cooperation under the Belt and Road initiative.