"Great news! Our county has finally been removed from the list of impoverished counties!"
It was end of April and the spring was at its prime for Wushan County. In the vegetable greenhouse of Danan River Basin, tons of freshly plucked vegetables were well packed for export; in the High Density Apple Production Zone of Luomen Muping Village, the mountain was cloaked in verdant greens with neat rows of dwarfing apple trees breeding the villagers' hopes of a fruitful autumn; in the newly built Yanghe Village, brand new two-storey cottage building and well-equipped plaza emerged in the lucid waters and lush mountains; in the manufacturing workshop of Songshu Village, the automated production lines were running smoothly and orderly... These epitomize SZSE's efforts in lifting Wushan County out of poverty.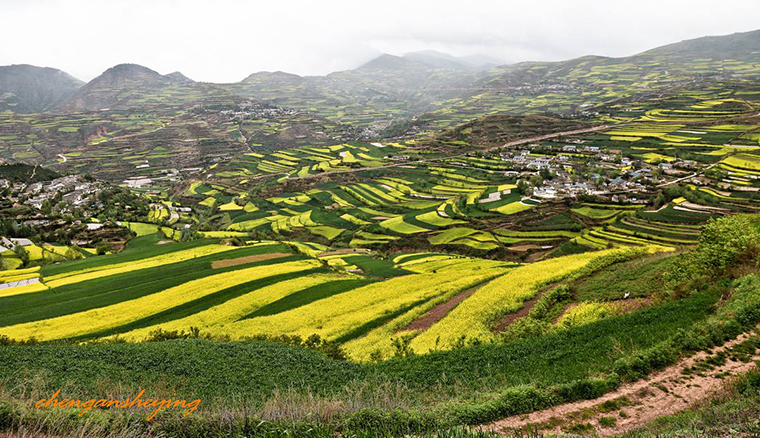 Brassica campestris land of Wushan County
SZSE initiated its poverty alleviation program in 2002. In May 2013, under the deployment of the CSRC, SZSE focused the poverty alleviation work in Wushan County. Long been known as the "Home to Chinese Leek", Wushan is a remote county located in the southeast of Gansu Province and the northwest of Tianshui Municipality. It is one of the key poverty-stricken counties with 282 impoverished villages, accounting for 82% of its total number of villages. In April 2019, Wushan has been removed from the poverty list, as the population below current poverty line has sharply decreased from 122,000 in 2013 to 5715 in 2018, and the poverty incidence ratio has declined from 28.67% to 1.54%.
Taking advantages of the capital market, SZSE has set up a special leading group and set out an 8-year poverty alleviation outline tailored for Wushan County. During the past few years, 4 senior staffs from SZSE were selected to serve temporary positions as deputy governor of Wushan County, and 18 young employees were joining the poverty relief working group to help the poor. SZSE has directly funded 53.6 million yuan to Wushan County, introduced 30 poverty alleviation projects, and guided market participants to fund 2.37 billion yuan, providing firms support for the county's poverty alleviation campaign. Furthermore, SZSE offered poverty alleviation corporate bonds and ABS products to Wushan companies to broaden their financing channel.
"Give a man a fish and you feed him for a day; teach a man to fish and you help feed him for a lifetime". Support and grow micro, small and medium enterprises
Like other counties in China, Wushan's economy is based on micro, small and medium enterprises (MSMEs). It is endowed with resources for vegetable planting, animal husbandry, trade and tourism, but its economy is largely limited to its single economic structure and weak industrial basis. The lack of large leading local enterprises and the limited number of enterprises make it impossible to organize large-scale and standardized production. More importantly, insufficient financing channels and strict loan requirements severely undermine the development and growth of MSMEs and family businesses in Wushan County.
In order to give full play to the unique advantages of financial institutions, SZSE jointly with China Construction Bank and China Foundation for Poverty Alleviation launched two innovative projects, "SZSE Bank Link" and "SZSE Farmer Benefit", to bridge the gap between financial resources and the County. Through these two projects, SZSE's 25 million yuan credit enhancement funds effectively mobilized 183 million yuan of funding through bank and social sources to support poverty alleviation, injecting new momentum into the county's economic growth. "SZSE Bank Link" focused on nurturing leading enterprises and forming competitive advantages by gathering individual farmers to develop high-quality agricultural products. Up till now, "SZSE Bank Link" has provided 35 loans totaling 103 million yuan (USD 15.8 million) for 14 MSMEs, which strongly supported local economic development and employment. "SZSE Farmer Benefit" focused on the financial aid for individual farmers. It provided 80.8 million yuan (USD 12.4 million) of preferential loans for 5,451 impoverished farmers in Wushan, offering necessary initial capital to start their own businesses and get rid of poverty. Moreover, SZSE's expert teams held training seminars on financial support for county economic development on a regular basis in Wushan, to promote the community's financial literacy and guide local enterprises to make better use of capital market.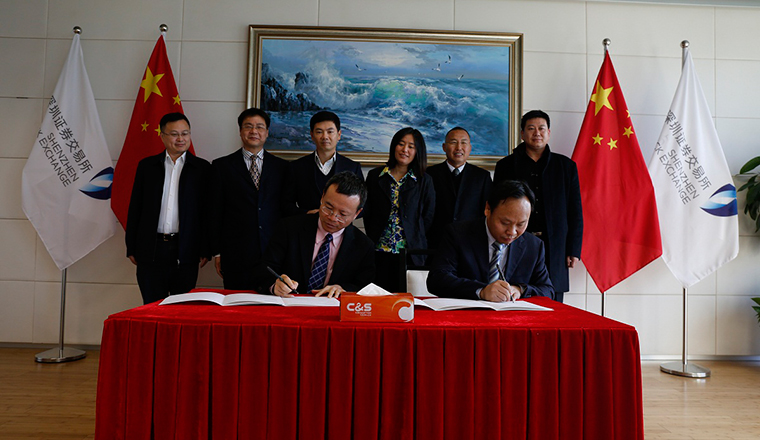 Signing Ceremony of "SZSE Farmer Benefit"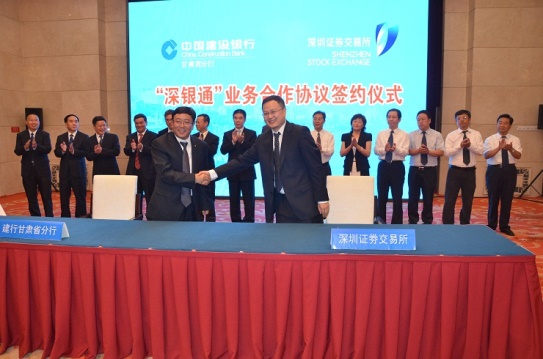 Signing Ceremony of "SZSE Bank Link"
"Let there be work, bread, water and salt for all". Meet people's basic needs for housing, food, health care and education
A family of seven or eight people lived in a mud house with no electricity or running water, no bathroom, no kitchen and no furniture apart from a few threadbare rugs and a couple of thin mattresses. With deep cracks on the wall, the rain could easily seep through the roof and it was very cold and damp being inside during the winter. This is a portrayal of the low-income families in Wushan. In order to achieve the goal of "Two Worries-Free (sufficient food & clothing) and Three Services-Guaranteed (compulsory education, basic health-care and safe housing), SZSE has precisely funded in education, medical care and housing, providing access to primary medical care and adequate living conditions for impoverished households, along with nine years of compulsory education for their children. In particular, 11.95 million yuan was directly spent in the renovation of dilapidated housing, benefiting 799 impoverished farmers and disabled families; 4.17 million yuan was contributed to school building renovation, financial support for impoverished students, teacher's training programs and other projects, effectively supporting impoverished students to higher education; 4.3 million yuan of fund were used to purchase necessary medical equipment for Wushan County Hospital to improve basic medical services. In addition, SZSE's listed company Nangang Company donated waste treatment equipment worth 7.5 million yuan (USD 1.15 million) and supporting services to enhance people's living environment.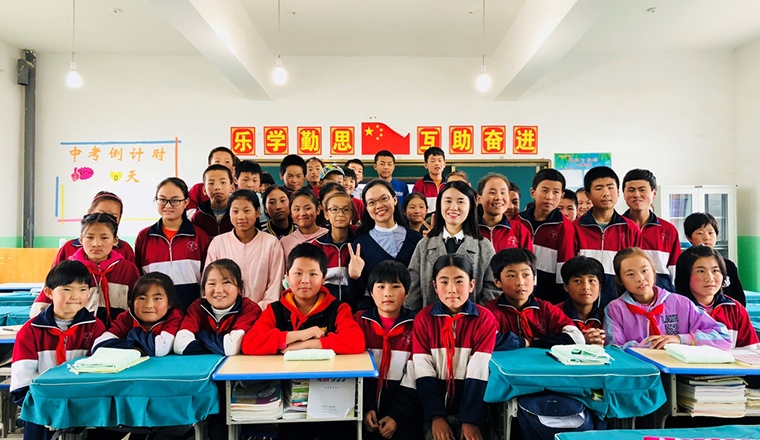 SZSE anti-poverty working group lectured Wushan Zuitou middle school students
"There is little we can do individually and asunder; but we can do so much by putting out efforts together". Mobilize wider social participation in poverty alleviation
By leveraging the power of private sector, SZSE adopts market-based approach and integrates market resources to build a robust and dynamic economy for Wushan. Tangrenshen Group, a SZSE-listed company engaging in the swine industry, participated in Wushan's livestock value chain program totaling 500,000 pigs. DAYU Water-Saving Group, a SZSE-listed company dedicating water-saving irrigation products, invested in the 50,000 acre of high-efficiency water-saving farmland through PPP model. SZSE-listed pharmaceutical companies such as Sunflower Great Health Company and Jinling Pharmaceutical Company established supply chain partnership with Wushan County for traditional Chinese medicine. By introducing leading E-commerce companies Suning and JD.com to Wushan, SZSE encouraged the county to launch new business model and develop E-commerce industry. Hualong Securities Company paired up with Wushan and set up branch offices to promote financial education and services. In addition, SZSE actively held various forms of exhibitions and seminars to promote Wushan in all aspects, which opened up new possibilities for the county.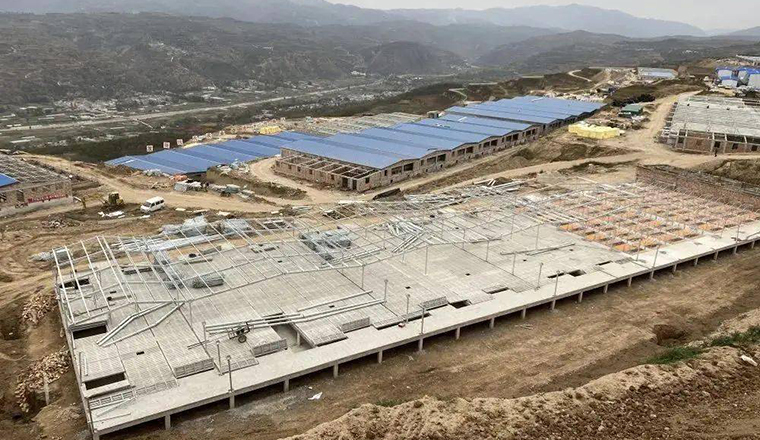 Large-scale livestock farm for invested by Tangrenshen Group was under construction
"Those who get well-off first help and guide others to get well-off later, so that common prosperity could be realized": China's distinctive way in achieving Social Development Goals
SZSE's anti-poverty program in Wushan County offers a window into China's achievements in its war against poverty. Achieving global sustainable development is the common goal of human society, and eliminating poverty is crucial for achieving such a goal. China has initiated planned and organized poverty alleviation efforts since the period of reform and opening up in 1978. From relief-based poverty alleviation drive and all-inclusive policies to development-oriented poverty alleviation programs and then to targeted poverty alleviation strategy, China has embarked on a distinctive development-oriented poverty alleviation path. In 1978, China's poverty-stricken rural population reached 770 million, with poverty incidence rate of 97.5 percent. After more than 40 years of persistent work, it became the first country to achieve the standard of poverty reduction laid out in the UN's Millennium Development Goals ahead of schedule. More than 700 million people in China have been lifted out of poverty, contributing more than 70 percent of the global poverty reduction efforts. China's efforts in poverty reduction have accelerated the process of global poverty reduction, and its prevision poverty-alleviation strategy provides a model for global poverty reduction. SZSE is happy to explore innovative means of poverty alleviation through the capital market.