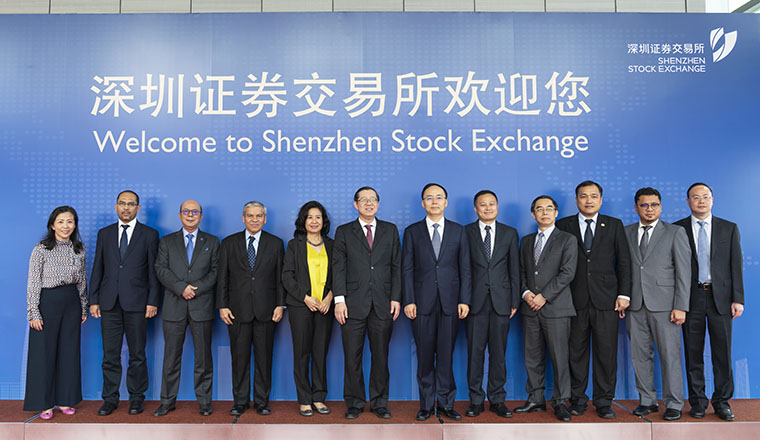 Malaysian Minister of Finance Honorable Mr. Lim Guan Eng and the delegation visited Shenzhen Stock Exchange (SZSE) in the afternoon on July 4th, 2019. Mr. Wu Lijun, the Chairman of SZSE hosted the meeting. The two parties had an in-depth discussion on exploring cross-border products and infrastructure cooperation opportunities, and strengthening cooperation of the capital markets between China and Malaysia. Relevant officials from Malaysian Ministry of Finance, Malaysian Securities Commission and Shenzhen Stock Exchange attended the meeting.
Mr. Wu Lijun said that China and Malaysia are friendly neighbours and important cooperation partners. The two countries are strategically complementary in economic development and trade, laying a solid foundation for large-scale economic and trade cooperation. With the firm support from Chinese and Malaysian governments, the capital market cooperation between the two countries is faced with favourable opportunities.
Located in the Guangdong-Hong Kong-Macau Greater Bay Area, Shenzhen Stock Exchange has become the hub for leading innovative and hi-tech listed companies with growth potentials, many of which have expanded their businesses in Malaysia. Huge market potentials as well as location-specific advantages constitute solid foundation for bilateral cooperation between the two exchanges.
SZSE has maintained smooth communication with Malaysian capital market. Through regular exchanges and frequent high-level visits, both parties have set clear directions for cooperation, explore possible mode of cooperation, and have made progress.
This meeting will further advance the in-depth cooperation between the two capital markets. Based on the V-Next Platform, a financing and investment information service platform for innovative and start-up companies, SZSE will promote the establishment of a cross-border eco-system for innovative capital between the two countries, explore cross-border products and infrastructure cooperation, and strengthen technological exchanges and personnel training, in order to jointly facilitate the high-quality capital market development of both countries.
Mr. Lim Guan Eng and the delegation also visited the SZSE Financial Museum, and have gained a thorough understanding of the history of China's capital market, the characteristics of SZSE's market, products and technology systems, as well as the SZSE's efforts in serving the real economy and advancing the opening up. The delegation spoke highly on SZSE's progresses in market development and cooperation with Malaysian capital market, and expressed that they will actively support the substantial capital market cooperation between China and Malaysia.
In the future, in accordance with the China Securities Regulatory Commission (CSRC)'s overall deployment on the opening up of the capital market, SZSE will make full use of its own functions, advantages and features as a platform, give full play to the leading role of capital market cooperation between China and Malaysia, and strive to deepen the pragmatic cooperation with the capital markets of ASEAN and other Belt and Road countries, in order to promote win-win cooperation and common development between China and Belt and Road countries.