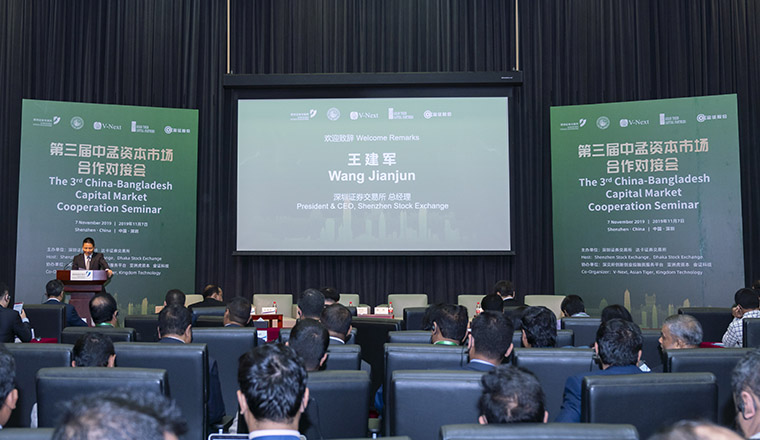 On 7 November 2019, the Third China-Bangladesh Connecting Symposium for Capital Markets, jointly organized by Shenzhen Stock Exchange (SZSE) and Dhaka Stock Exchange of Bangladesh (DSE), was held in Shenzhen successfully. Focusing on the Belt and Road Initiative and Digital Bangladesh Vision 2021, in-depth discussions on topics such as China-Bangladesh financial market cooperation and investment opportunities in Bangladesh were carried out along with roadshow activities of characteristic Bengali enterprises, in order to promote regular cooperation between capital markets of the two countries. SZSE President & CEO Wang Jianjun and DSE President Abul Hashem attended the event and delivered speeches. Other participants included nearly 170 representatives from stock exchanges, investment institutions, listed companies, financial enterprises, etc. of both countries.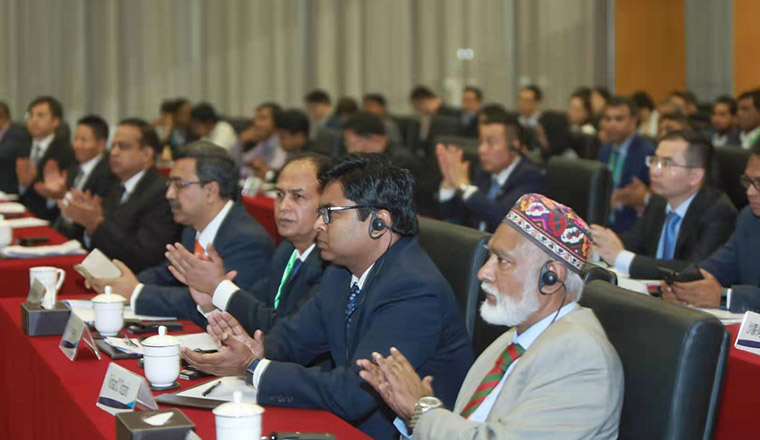 Bangladesh is one of the strategic partners of China. The two countries have been enhancing their cooperation in trade, investment, finance, etc. and have established a number of new cooperative growth points in areas such as new sciences and technologies and new business models. Since May 2018, when SZSE led the Chinese consortium to take a strategic stake in DSE, the two sides have been jointly committed to upgrading Bangladesh's key financial infrastructure, carrying out practical cooperation in various aspects (including transformation and renovation of technological system, construction of the small- and medium-sized enterprise sector, and connecting of cross-border capitals) and providing sustainable financial support for the building of China-Bangladesh-India-Myanmar economic corridor.
At the Second China-Bangladesh Connecting Symposium for Capital Markets held in May this year, the construction of the Window of Bangladesh was launched by SZSE and DSE as part of the V-Next platform, a platform for innovation and venture investment and financing services, to create a more standardized, transparent, convenient and efficient path for cross-border connection between industries and capitals of both parties. At this symposium, about 15 Bengali enterprises in information and communication, advanced manufacturing, Internet + and other industries relied on the V-Nest platform to conduct roadshow activities in the form of "on-site meetings + on-line live broadcast", thus achieving accurate connection with Chinese investment institutions and listed companies with good promotional results.
Over the past few years, under the leadership of China Securities Regulatory Commission (CSRC), SZSE has been making full play of its advantages in market, technology, service and location, strengthening cooperation with capital markets of countries along the Belt and Road. In the next step, SZSE will continue to support the Belt and Road Initiative, contribute to the building of Guangdong-Hong Kong-Macao Great Bay Area and the Pilot Demonstration Area of Socialism with Chinese Characteristics, and advance the international development strategy pragmatically. It is important for SZSE to better utilize its function as a resource allocation platform, to expand interconnection and cooperation, to improve cross-border capital service system, to conduct innovative capital cooperation between China and Bangladesh on a regular basis under the principle of "wide consultation, joint contribution and shared benefits", and to create an example of cooperation between stock exchanges in emerging markets, thus making positive contributions to the high-quality development of both economies.