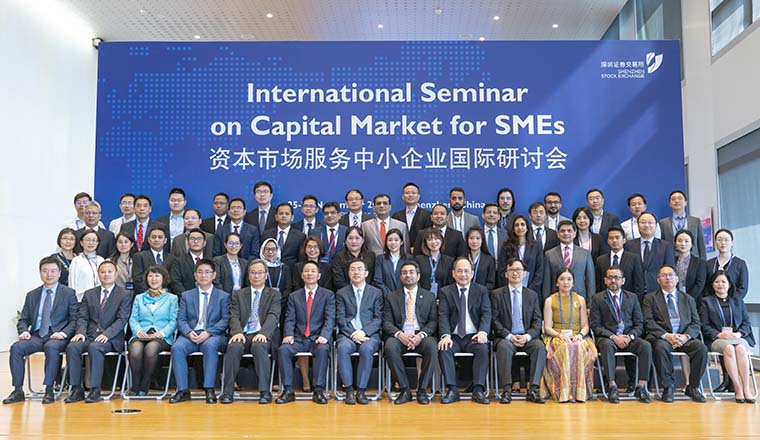 The 2019 International Seminar on Capital Market for SMEs (hereinafter 'Seminar') was successfully held at Shenzhen Stock Exchange on November 25th. Senior management and experts of exchanges, regulatory department and market institutions from countries along the "Belt and Road", including Abu Dhabi, Cambodia, Thailand, Malaysia, Indonesia, the Philippines, Bangladesh, and Pakistan, joined the Seminar. Mr. Ai Xuefeng, Vice Mayor of Shenzhen Municipal People's Government, Mr. Wang Jianjun, CEO and President of Shenzhen Stock Exchange, and Ms. Yang Liu, Deputy Director of Department of International Affairs of China Securities Regulatory Commission (hereinafter 'CSRC'), attended the seminar and delivered speeches. More than 80 representatives from domestic and foreign exchanges, financial institutions and related capital market organizations attended the Seminar.
In Mr. Ai Xuefeng's speech, he said, "Shenzhen actively promotes the implementation of the CPC and the state guidelines and policies, making every effort to build a demonstration city of a great modern socialist country, and striving to build a global benchmark city with high competitiveness, innovative spirit and global influence. To achieve this target, it is essential to establish an efficient capital formation mechanism for innovation, giving full play to the vitality and role of SMEs. Shenzhen is one of the main birthplaces of China's securities market. In recent years, it has made remarkable achievements in promoting the two-way opening-up of the capital market, and cross-border investment and financing of innovative business. The Seminar provides a great platform for communication on facilitating the development of capital market for SMEs, which will help deepen cooperation of capital market and promote the quality development of the real economy. "
Yang Liu pointed that the CSRC adheres to the guidance of Xi Jinping Thought on Socialism with Chinese Characteristics for a New Era, conscientiously implements the requirements of the CPC and the State Council on deepening the supply-side structural reform of the finance industry, and facilitates the functions of the multi-tiered capital market platform, and supports qualified SMEs make full use of both domestic and overseas financing markets to achieve quality development. The CSRC will further enhance communications and win-win cooperation with the capital markets along the "Belt and Road", promote the financial integration of "Belt and Road", and actively contribute to trade liberalization, investment facilitation and economic globalization.
Wang Jianjun pointed out that SMEs are of great significance to national economic and social development. They are indispensable in providing new jobs, improving people's livelihood and encouraging innovation. SZSE has deepened its efforts in small and medium-sized enterprises and services for entrepreneurship and innovation, and has embarked on a road with distinctive characteristics and suitable for its own development which has strongly supported the development of the real economy. Through pragmatically deepening the regional capital market cooperation, SZSE will further promote the formation of normalized communication mechanisms embodying regional characteristics so as to actively support the growth and development of SMEs through various channels and in various ways and promote the high-quality development of regional economy. The first is to build a capital matching platform to promote cross-border financing for SMEs. The second is to deepen technical cooperation and promote the digital transformation of regional capital markets. The third is to strengthen interconnection and build an inclusive and open ecosystem.
At this seminar, participants discussed on the topics of information disclosure and corporate governance of SMEs, science and technology enterprise cultivation, investor services, cross-border connectivity and infrastructure construction of exchanges, etc., in order to strengthen capital market cooperation and provide new ideas to serve the development of SMEs in the region.
At present, China endeavors to promote a new round of high-level opening up, vigorously promoting the"Belt and Road" construction, and making great efforts to build the Greater Bay Area and the demonstration pilot zone for socialism with Chinese characteristics. As such, more favorable conditions are created to strengthen international cooperation of the capital market, and fully support SMEs in the region. Under the leadership of the CSRC, SZSE will unswervingly deepen reforms, expand opening up, adhere to its own characteristics, learn from international best practices, promote marketization, rule of law, and internationalization of systems, products and services, and work together with parties in the capital markets along "Belt and Road" countries to establish a more inclusive cross-border service mechanism for SMEs with diversified, reliable and convenient financial services.