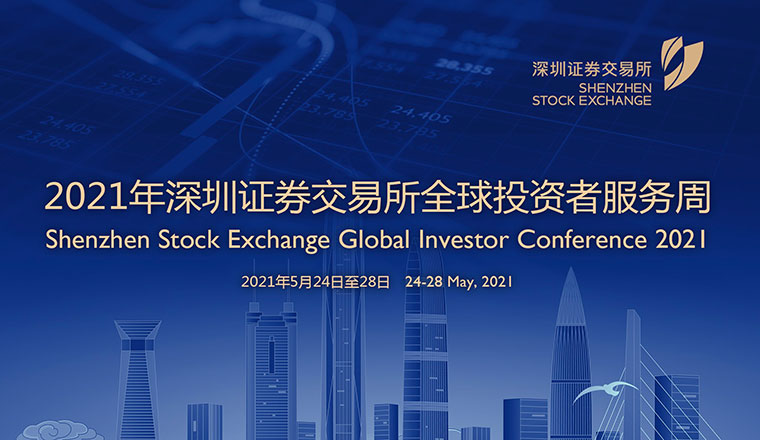 On May 24, Shenzhen Stock Exchange Global Investor Service Week officially kicked off. Nearly 100 industry experts, scholars and representatives for domestic and foreign institutional investors will attend by video conferencing the five-day event that targeted at global investors. Through the keynote speeches and roundtable discussion, attendees will focus on such topics as high-standard two-way opening up of China's capital market as a whole, the innovative and integrated development of the capital markets in the Guangdong-Hong Kong-Macao Greater Bay Area, technological innovation and cooperation of capital markets, multi-asset investment strategy in SZSE, innovation and entrepreneurial ecosystem and cross-border investment. The event aims to further increase global investors' understanding and participation in China's capital market.
On the first day of the event, Director Wang Zhongying of the Energy Research Institute of the National Development and Reform Commission and Chief Economist Peng Wensheng of China International Capital Corporation Limited ("CICC") each gave a keynote speech on China's carbon neutrality policy and China's macroeconomic situation respectively. At the roundtable discussion, heads of domestic and foreign mainstream institutional investors including CICC, CLSA, UBS China, J.P. Morgan Chase & Co., HSBC Qianhai and MSCI had an in-depth discussion about the new opportunities brought by the opening up of China's capital market and shared beneficial experiences in investing in the China market.
In recent years, actively responding to foreign investors' needs and market concerns, SZSE has continuously optimized the connection mechanisms, enriched participation channels for foreign investors, and steadily promoted high-standard two-way opening up. Shenzhen-Hong Kong Stock Connect was opened in December 2016. Over the past four years and more, it has been running stable on the whole and has seen transaction volume grow steadily. In June 2018 and June 2019, A shares were included in the MSCI Emerging Markets Index and the FTSE Global Equity Index Series respectively, continuing to improve the international standard and resource allocation efficiency of the SZSE market. In October 2020 and April 2021, Shenzhen-Hong Kong ETF Connect and China-Japan ETF Connect were launched in SZSE, providing diversified choices to cross-border investors. Since 2020, SZSE has effectively responded to the impact of the Covid-19 pandemic and organized regular online foreign investor service activities, which covered more than 300 foreign institutions.
Next, under the unified guidance of China Securities Regulatory Commission, SZSE will continue to correctly understand the new development stage, apply the new development philosophy and serve the formation of the new development pattern. We will firmly deepen the reform and opening up, carry out international communication and cooperation, refine cross-border connection mechanisms, and strengthen the international promotion of SZSE's core assets. We will optimize the foreign investor service system and facilitate the establishment of regulations and service system that meet international standards. We will strive to achieve institutional, systematic high-standard two-way opening up and break new ground in win-win cooperation among capital markets.